New
Release Update
Enhancements
1. Version as menu
Add public versions as a menu on your knowledge base articles page. This helps you showcase the available versions in your knowledge base and provides easy navigation for your end-users.
To access the version display setting in the knowledge base portal, go to Settings → Knowledge base portal → Localization & Versions → Localization & Versions (tab) → Display versions as a menu (toggle) → ON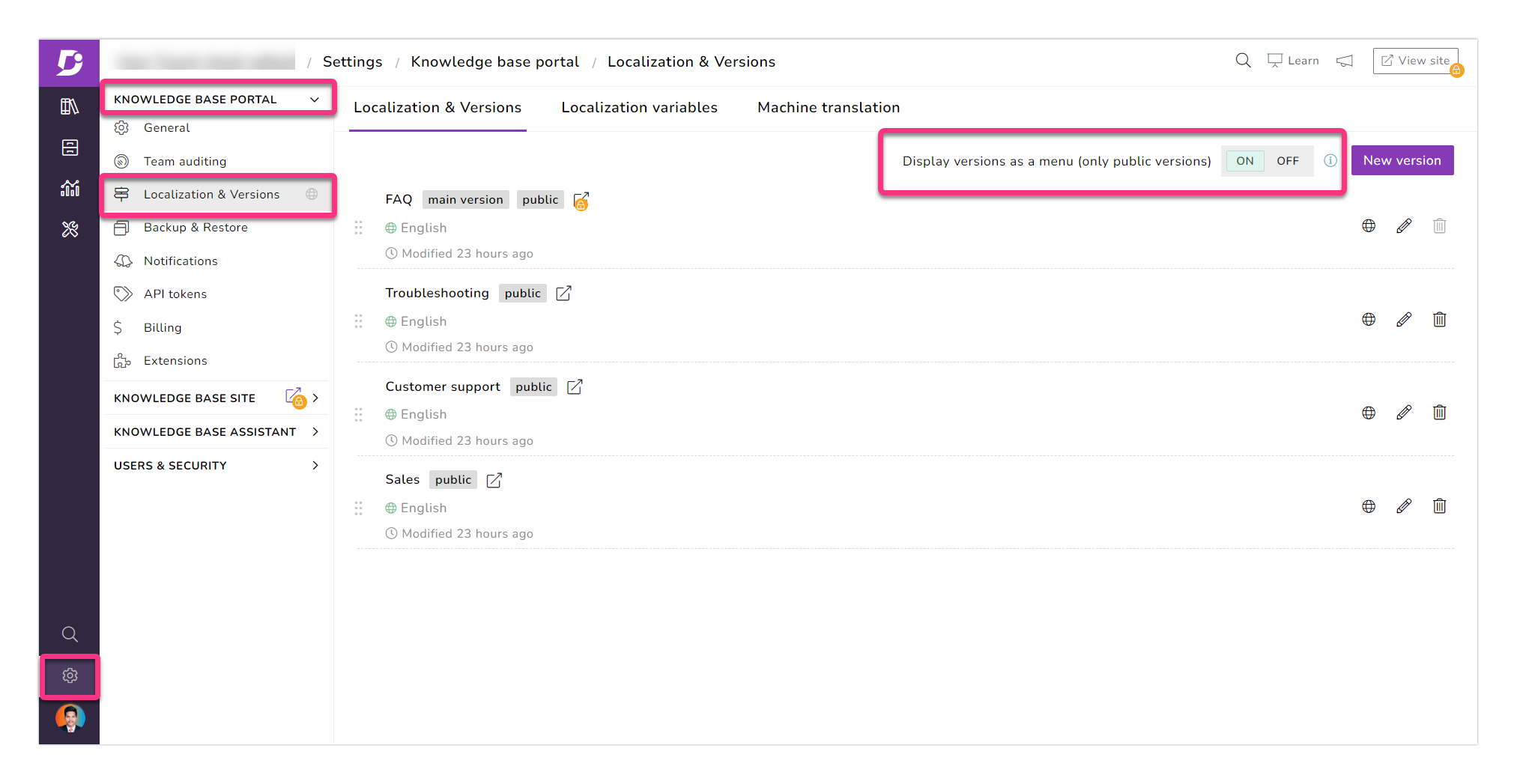 For example, you have multiple public versions such as FAQ, Troubleshooting, Sales, and Customer support in your knowledge base. When the 'Display versions as a menu' toggle is set to 'On', the public versions are displayed as a menu. When the toggle is set to 'Off', the public versions are displayed as a dropdown.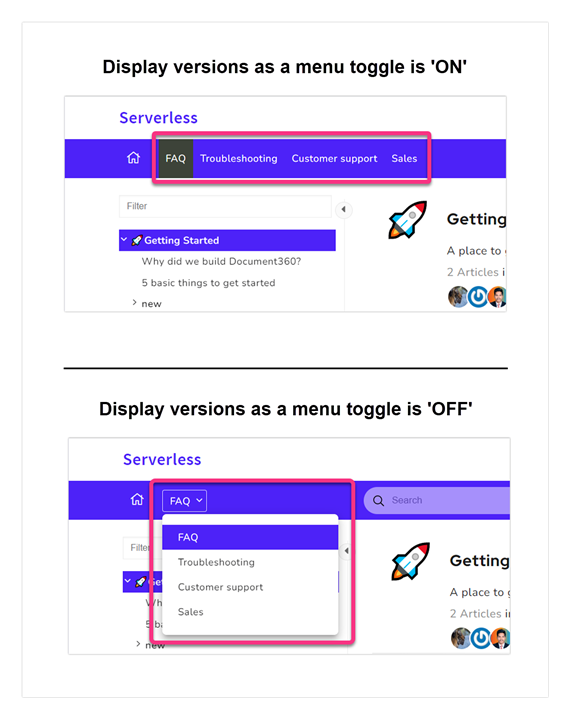 Read more →
2. Readers self registration
The Export option has been added to the domain restriction(s) section. The option can be seen at the top-right of this section on the Readers self registration page. The entire list can be exported as a CSV file onto your local device storage
Now, you can sort the Domain column by clicking the column header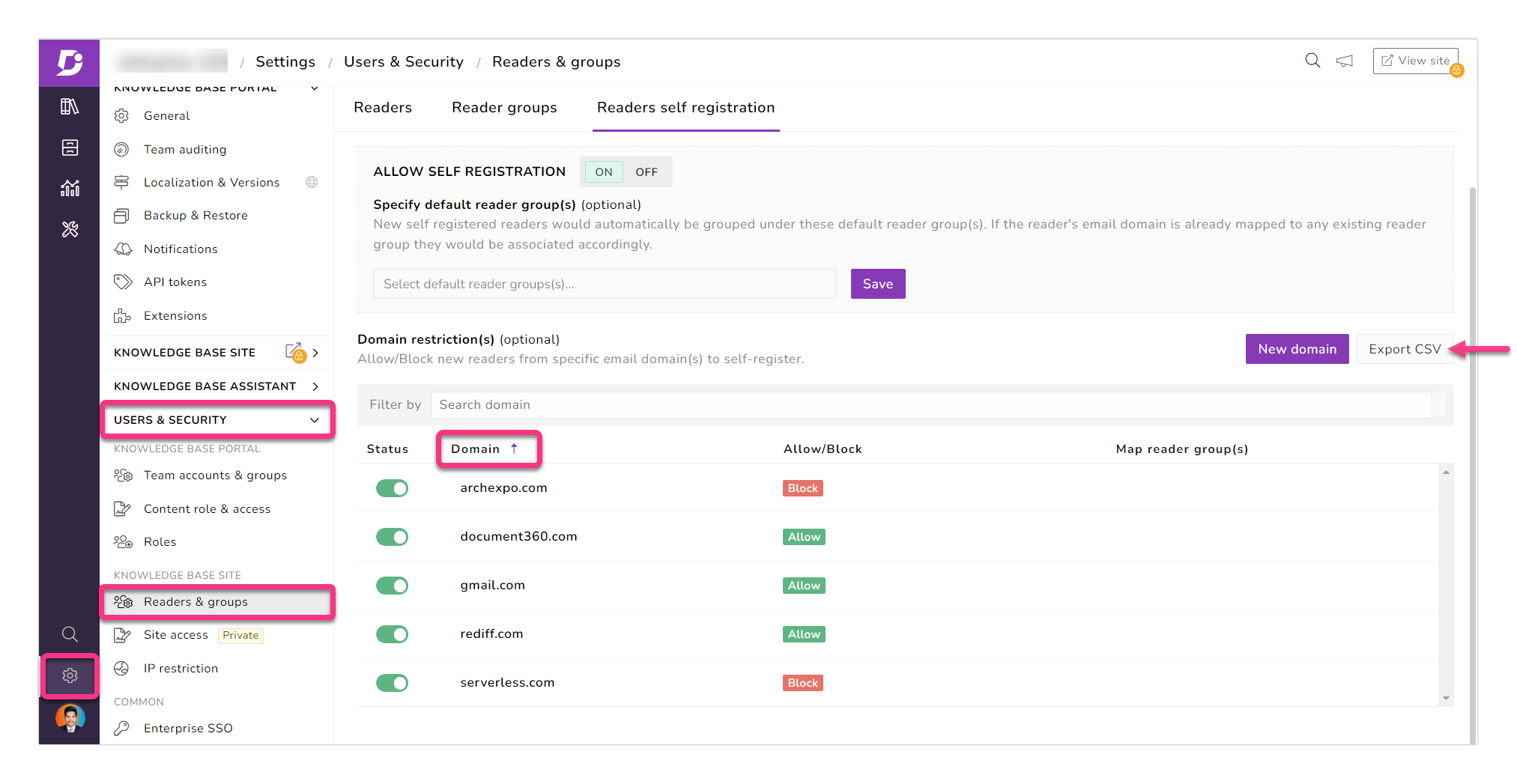 Read more →
3. Team accounts and readers
A new option to skip sending invitation mail when team accounts and readers are added has been introduced. The Skip invitation mail checkbox is available in the user addition module on the Set up the basics stage
The invitation email can be disabled for bulk team accounts and readers import as well
Earlier, this option was available only for SSO users. Now, this option is available for all users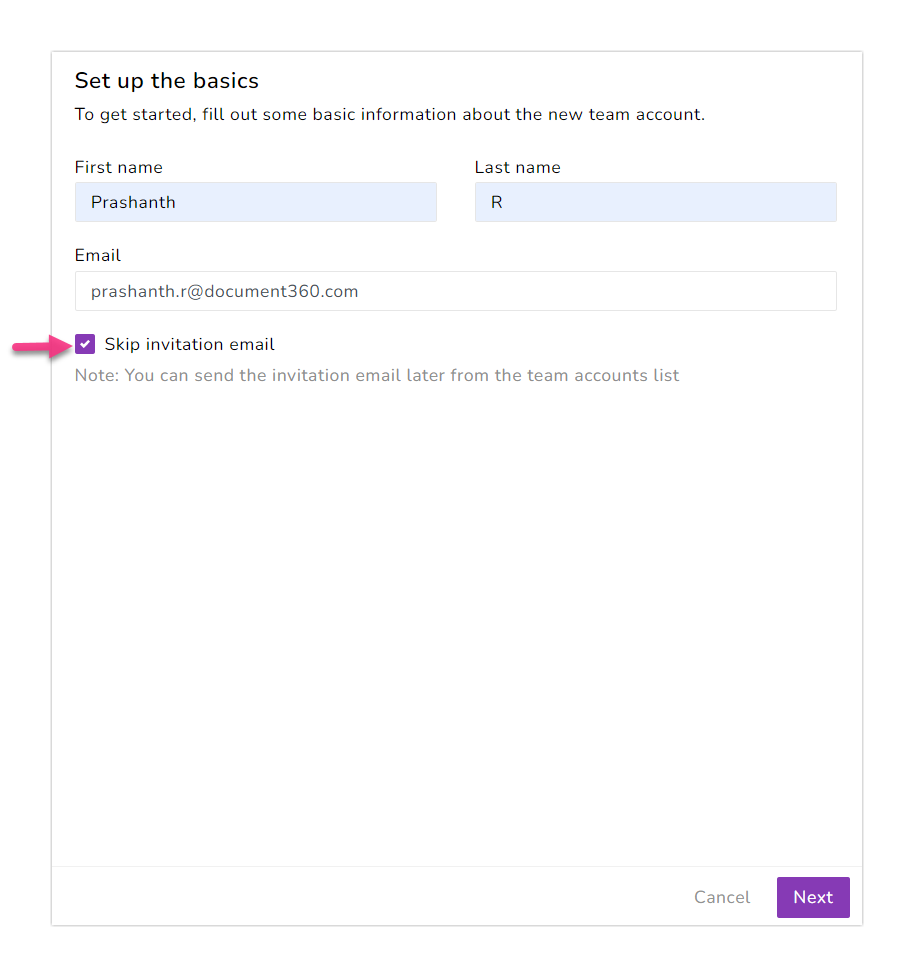 Read more →
4. Find and replace option in WYSIWYG editor
The find and replace option is added in the WYSIWYG editor. This allows you to search any text within your article and replace it with another text. You can also use this to find the occurrences of the text content in the article.

Read more →
5. Backup & Restore
We had made a few enhancements to the Backup and Restore feature. The backup type and validity for the subscription plans are changed. Check our pricing page for more details.
The restore option has been enhanced to accommodate granular-level restoring. Below are the restore options available now:
Documentation - You can restore any particular article/category/language/version. Earlier, you could only restore the complete documentation
Home page builder - You can restore any particular home page. This includes the home page configured with custom CSS
Custom CSS - You can compare the custom CSS of the backup and the current version. The changes made in the current version are highlighted
Custom JavaScript - You can compare the custom JavaScript of the backup and the current version. The changes made in the current version are highlighted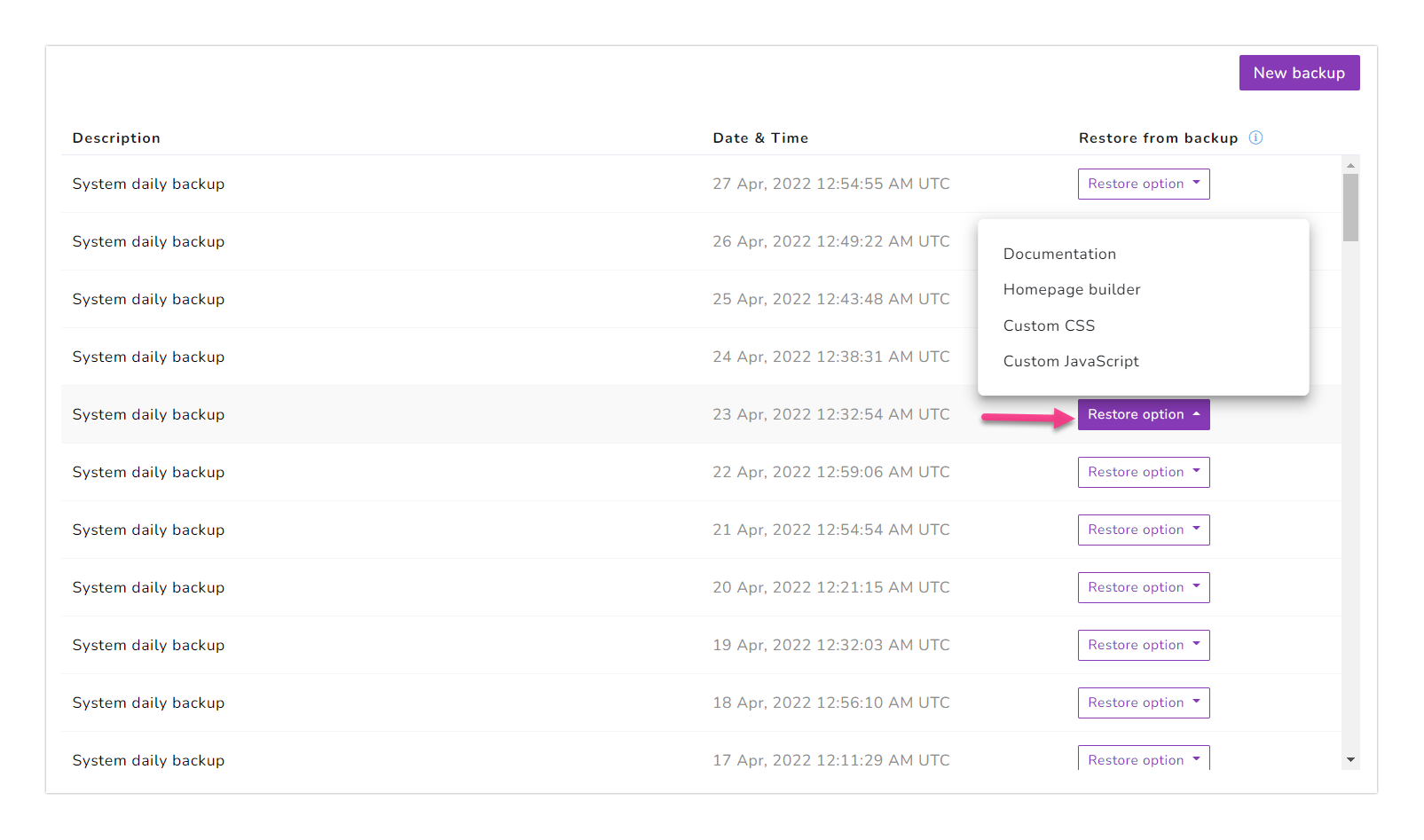 Read more →
6. Variables (Content reuse)
Formatting options are added for the variable. Previously the variable text would appear as normal text. This helps you to have formatted text as in-line content in your articles. The following formatting options are available now:
Bold
Italic
Underline
Strikethrough
Font-size
Font family
Text color
Background color
Subscript
Superscript
Insert links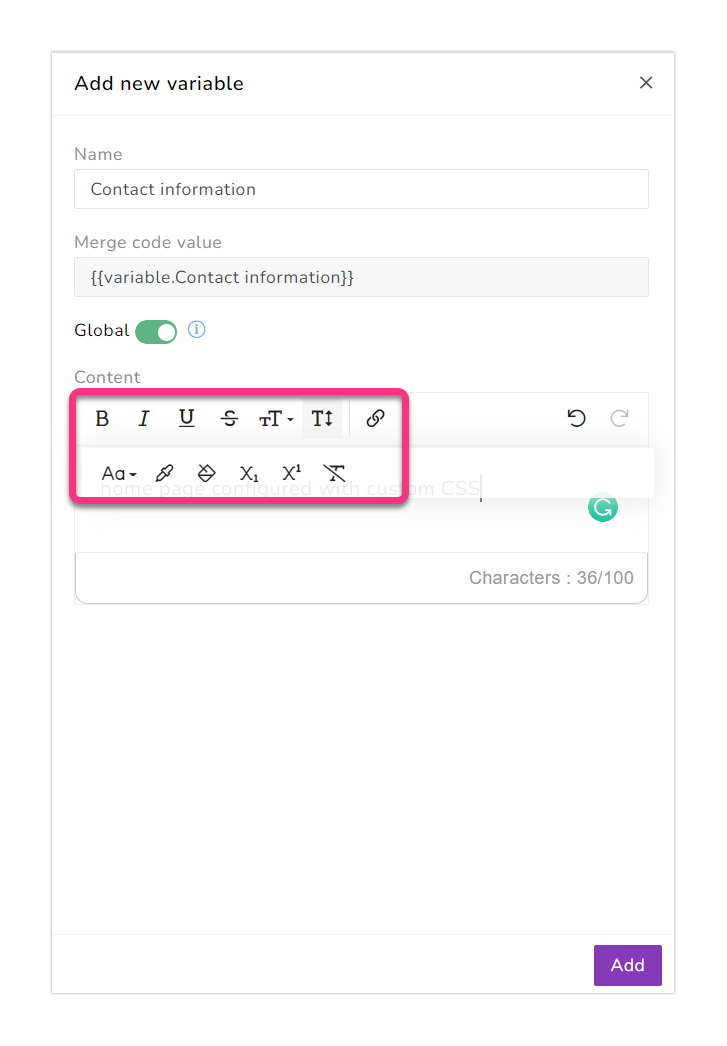 Read more →
7. Export to PDF
Cancel option has been added in the export to PDF option. This allows you to cancel the ongoing export process.
If you want to cancel the export process, click the '✖' Cancel icon, and the '🚫' Last export canceled icon appears next to the last modified date.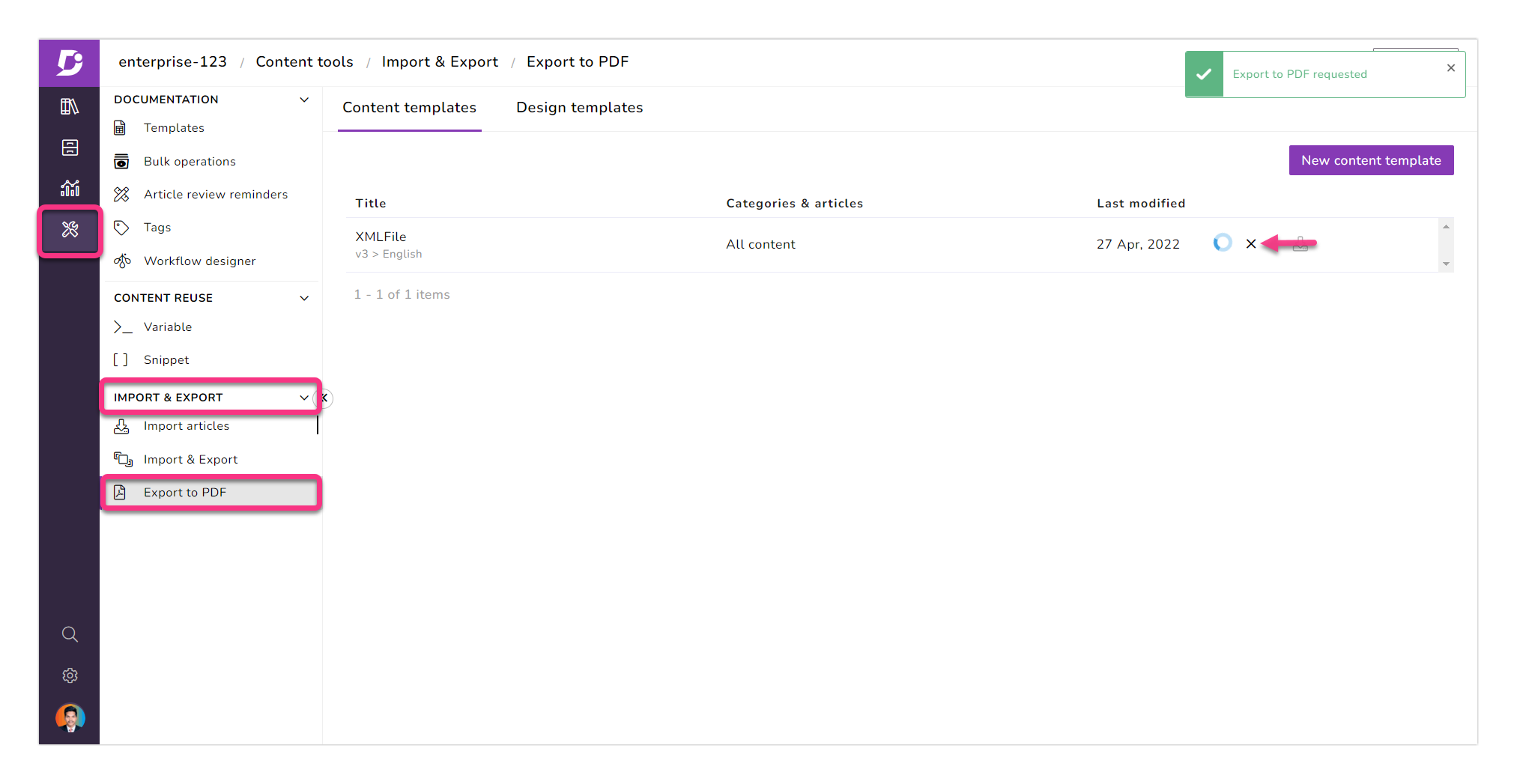 ---
Improvements
UI/UX improvements
Copy link icon is added to the published articles in the editor
+New (New folder) icon is added on the bottom left of the Drive, similar to Documentation
Other improvements
Minor performance, bug fixes, and security improvement can also be observed in the knowledge base portal and site